Zhejiang Taiwan star intelligent equipment co., LTD. Is engaged in the tool grinding machine, special tool grinding machine and precision machine tools and other equipment design, development, production and trade as one of the science and technology enterprises, with the domestic and foreign companies of strategic cooperation, market all over the world more than 50 countries and regions, is one of the leading scale tool equipment manufacturers at home and abroad.
Taixing Exhibit 1: TX-M6 Super Hard Tool Grinder
TX-M6 is a semi-automatic precision tool grinding machine, suitable for PCD, CBN, cemented carbide tools of high precision machining, in the premise of ensuring the accuracy of equipment and structure rigidity, further improved
Ease of operation and production efficiency.
Taixing Exhibit 2: TX-DL400 Automatic Negative Chamfering Grinder
(1) The bed is made of high quality cast iron, after natural aging, the structure is stable and not easy to deform.
(2) servo set feed grinding program to ensure the uniformity of size.
(3) According to the chamfering design of the blade, chamfering can be carried out on the circular blade, cylindrical blade and conical blade, etc.
(4) The special program developed for blade chamfering is easy to understand and more efficient.
(5) Automatic loading and unloading, improve production efficiency.
Taixing Exhibit 3: TX-MF270 Hub Tool Grinder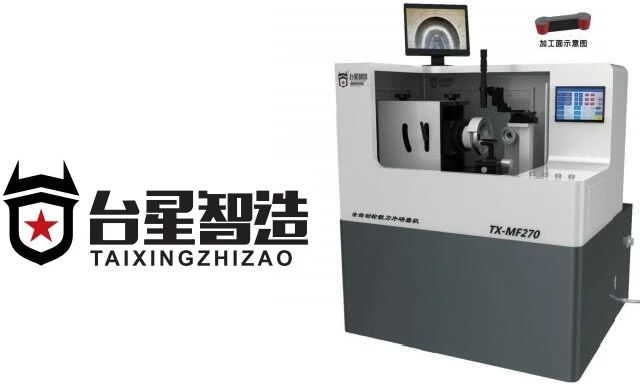 (1) For hub cutter design, perfect realization of 270°R Angle grinding.
(2) The bed is made of high quality cast iron, which is stable and not easy to deform after natural aging.
(3) Visual manual alignment, automatic grinding.
(4) 3KW asynchronous motorized spindle drive, cutting force is stronger, more quiet.
(5) Fill-in-the-blanks operating system independently developed is convenient to operate.